Turf Management "Elite Care"...
Sleepy Hollow Lawn Care & Landscaping "Elite Care" turf management program will give you a greener, healthier, and more weed free lawn that you and your family can enjoy.

Our seven step program will include: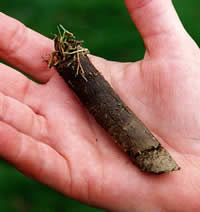 Step 1: February 15 - March 1
Site Analysis, Take Soil Samples, Develop Program
Step 2: March 1 - April 1
Apply Balanced Fertilizer with Crabgrass Preventer
Step 3: May
Apply Slow Release Fertilizer with Micronutrients & Broadleaf Weed Control
Step 4: June
Apply Summer Stress Non-Burning Fertilizer with Iron & Grub Control
Step 5: July & August
Apply Fungicide to Control Brown Patch & Other Diseases
Step 6: September
Apply Starter Fertilizer and Re-seed Lawn
Please Note: Core Aerification & Slit Seeding will be done at an additional cost if required
Step 7: October - December
Apply Balanced Fertilizer to Promote Root Growth, Healthy and Facilitate Early Spring Green-up. Also apply Lime as needed based on Soil Test Results
If you are looking for a turf management company for your home or business, please call us today at (302) 378-1996 or complete our online request form for a free landscape analysis and consultation.

To see our latest brochure on turf management please click here.


Note: This is a standard Adobe PDF document. If you do not have Adobe Reader click Get Adobe Acrobat for a free download.