Container Gardens
Sometimes, we can't contain ourselves in the garden, but we can sure contain our gardens. The possibilities are endless with container gardens. What a terrific way to add some interest and conversation to your garden.
Landscape Irrigation…
The most important part of the sprinkler system process is the design. Even with the best quality parts and expert installation, a poorly designed system will not water efficiently or protect your landscape.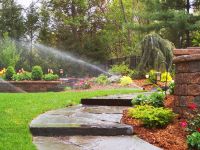 When Sleepy Hollow designs a sprinkler system, we consider a number of important variables. Lawn areas have different watering requirements than flower and shrub beds. Shady areas need far less water than sunny ones. Trees take a tremendous amount of water and will draw from your lawn and bed areas if they need it. Many different types of sprinkler heads can be selected to satisfy a variety of watering needs.

The water pressure on your property will also affect the design of your sprinkler system. It will determine how many sprinkler heads can be put on each zone, and in turn, how many zones your property will need to properly water everything.

The finishing touch on your new sprinkler design is an easy-to-use timer that will make operating your system a snap. A rain sensor will be installed to prevent the system from watering after it has rained. When your sprinkler is designed well, you can enjoy years of convenient and efficient watering.

Landscape Lighting...
Sleepy
Hollow Lawn Care & Landscaping provides landscape lighting, specializing in custom lighting design for homes and businesses. We use only the highest quality, lowest maintenance, outdoor lighting system components available on the professional market. That is why when you choose to work with Sleepy Hollow Lawn Care Landscaping; you can be assured of receiving nothing but the absolute finest system available.

Let Sleepy Hollow show you how you can increase the beauty, safety, and security of your home and landscape with the artistic placement of landscape and architecture lighting fixtures. Your home is probably one of your largest investments. So, why let your beautifully landscaped property fade into the shadows of darkness when the sun goes down? Sleepy Hollow Outdoor Lighting Systems are perfect for expanding your outdoor living areas.

We provide outdoor lighting consultations to homeowners, developers, landscape designers, landscape architects, architects, builders, developers, and property managers to illuminate America's finest properties with architectural lights, landscape lighting, garden lighting, tree lighting, path lighting, fountain light, pond lights, paver lighting, and yard lighting systems.

Commercial Snow Removal…
Sleepy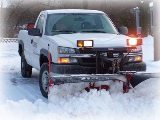 Hollow Lawn Care Landscaping focuses on providing quality and prompt service while managing risk to our customers. In return Sleepy Hollow reduces interruptions to the flow and continuity of your enterprise by reducing the frustration and hazardous conditions associated with our winter weather. Sleepy Hollow has a sophisticated approach to providing our clients with a world class level of service. Countless hours of work go into preparation and planning for inclement winter weather events. Both equipment and manpower are carefully allocated so as to make sure we can deliver the level of service our clients deserve.

Our Customer Profiles Include:
Corporate Office Parks and Office Buildings
Retail Shopping Centers, Malls and Retail Stores
Industrial, Warehousing and Shipping Facilities
Hospitals and other Healthcare Facilities
Retirement Communities
Churches
If you are looking for a landscape irrigation, landscape lighting or commercial snow removal company, please call us today at (302) 378-1996 or complete our online request form for a free analysis and consultation.